Vinyl Flooring Installation For Your Home.
Upgrade your space with our premium vinyl flooring in Singapore. Explore a variety of styles and get expert installation for an impressive transformation.
Get your vinyl flooring price within 1 hour during office hours.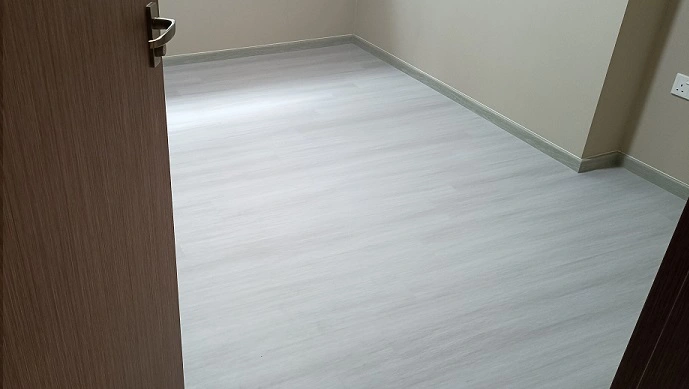 Welcome to the versatile world of vinyl flooring! If you're seeking a durable, stylish, and cost-effective solution for your home or business in Singapore, you've come to the right place. From vinyl floor tiles to vinyl wood flooring, our vast selection guarantees the perfect fit for your aesthetic and functional needs.
Discover the Variety of Vinyl Flooring Available
Dive into our extensive collection of vinyl flooring in Singapore. Choose from vinyl plank flooring, sheet vinyl, or vinyl tiles, all of which offer unique benefits.
Our luxury vinyl tile (LVT) flooring, for instance, provides a high-end look without the hefty price tag. For those aiming for a more classic aesthetic, our wood vinyl tiles have the allure of traditional wood with the benefits of vinyl. If you're after something different, our woven vinyl tile brings a unique texture to any space.
Unleashing Creativity with Our Vinyl Flooring Designs
Breathe life into your interiors with our imaginative vinyl flooring designs. Choose from a range of colours and patterns. Our white vinyl flooring can make small spaces seem larger, while our herringbone vinyl flooring adds an intricate geometric twist. For an elegant touch, consider our marble vinyl flooring.
Transform Your Kitchen with Our Vinyl Flooring
Besides living room and bedrooms, you may elevate your kitchen with our specially designed kitchen vinyl flooring. From rustic to modern designs, our variety of vinyl flooring options caters to every style. Looking for the warm aesthetic of timber? Our wood vinyl flooring is your answer. Want a sleek, clean look? Opt for our white vinyl flooring.
Installation Services for Vinyl Flooring in Singapore
At our company, we pride ourselves on providing the best vinyl flooring Singapore has to offer, and our services don't stop at the point of sale. Our professional installers make the process seamless, ensuring your chosen vinyl floor tiles, planks, or sheets are fitted to perfection.
Maintaining Your Vinyl Floors with Our Exclusive Vinyl Floor Cleaner
Proper care extends the life of your vinyl flooring. Our vinyl floor cleaner is formulated to keep your floors sparkling without causing any damage. We'll also guide you on how to clean vinyl floors effectively, ensuring your flooring stays as impressive as the day it was installed.
Invest in Quality: Understanding Our Vinyl Flooring Prices in Singapore
We understand that vinyl flooring costs can be a concern. That's why we're transparent about our pricing. Whether you opt for our luxury LVT flooring, cheap vinyl flooring in Singapore, or something in between, we ensure excellent value for money.
Check out our seasonal sales to help you with your budget while getting luxury upgrades.
Why Choose Our Vinyl Flooring Over Other Flooring Options in Singapore
When you choose our vinyl flooring, you're choosing durability, style, and ease of maintenance. Compared to hardwood, laminate, ceramic tiles, and carpet, vinyl flooring is a versatile and cost-effective option.
Conclusion
We're the go-to vinyl flooring supplier in Singapore, offering a broad selection of vinyl flooring designs, colours, and types. We cater to all budgets, from luxury vinyl to affordable options, all without compromising quality. Experience the difference today. Contact us for more information or to schedule a consultation.
Testimonials
Hear from our happy customers
I'm really happy that the whole outlook of my house is now different without any demolition of my flooring. Bill suggested we only hack the tile skirting we had as they supplied new wall skirtings. Anyways we appreciate the price that goes with quality of vinyl materials. Thank you so much!
Mr Lam
2 bedroom vinyl flooring installation
We engage tiling.sg after submitting our floorplan on their free quote. Once I got the rough pricing, we met at my house and Irsyad helped me pick out something that match with our furniture, something I felt they were helpful on. The installation of vinyl tile flooring took 2 days for our 4 room flat and all carried out well. Highly recommend the vinyl installation service.
Mrs Hong
4 Room flat vinyl flooring installation
Upgrade Your Home On A Budget.
How long does vinyl flooring typically last, and what can I do to extend its lifespan?
The lifespan of vinyl flooring can vary greatly depending on the quality of the material and how well it's maintained, but typically, you can expect it to last anywhere from 10 to 20 years. To extend its lifespan, you should clean spills immediately to prevent staining, sweep or vacuum regularly to remove dirt that can scratch the surface, and consider using protective pads under heavy furniture to prevent indentation.
Can I install vinyl flooring on top of existing ceramic tiles or do I need to remove them first?
Vinyl flooring can be installed over existing ceramic tiles, but the surface of the tiles needs to be in good condition, clean, and free from any wax or soap scum. Any cracks or unevenness in the tiles need to be fixed before installation, as they may show through the vinyl over time. It's also crucial to make sure that the added floor height won't interfere with doors or other features. If the existing tiles are in poor condition, it might be best to remove them before installing the vinyl flooring.
Can it be used in bathroom?
Although, it is highly water resistance, we do not suggest to use it for your bathroom as moisture may get trap behind the vinyl and promote growth of mold and bacteria.