Toilet Renovation That Truly Make a Splash!
Explore complete toilet renovation Singapore guide. From process, design ideas, 2023 costs to packages. We've got you covered for your dream bathroom makeover.
"Thank you guys for the clear advice and quality workmanship!"- Mr Saifudin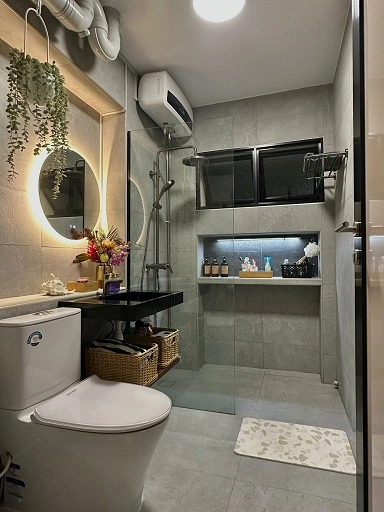 Toilet Renovation Overview
Welcome to the most comprehensive toilet renovation Singapore guide.
Renovating a toilet is a process that involves several decisions. One of the first and most significant choices you'll make is whether to go for hacking or an overlay. Both of these options have their own sets of advantages and drawbacks. Let's break it down for you.
Hacking
Hacking involves stripping the toilet down to its bare bones, essentially starting from scratch. It gives you the maximum flexibility to redesign the layout, fix any underlying issues, and upgrade your systems. However, it's typically more time-consuming and costly, not to mention the mess it creates. It's a suitable option if you're looking for a complete transformation or if the current state of your toilet demands extensive work.
Overlay
An overlay is a more straightforward and less invasive process. It involves installing new features on top of the existing ones, like laying new tiles over old ones. It's quicker, less messy, and often more cost-effective. However, it may not fix underlying problems and gives less room for altering the layout or making significant changes. It's suitable if your toilet is in decent condition and you're looking to refresh the look without too much disruption.
Once you've decided between hacking and overlay, you can move on to planning your design, selecting your elements, and managing the toilet makeover. Keep in mind that this journey involves meticulous planning, careful execution, dealing with potential disruptions, and post-renovation cleanup.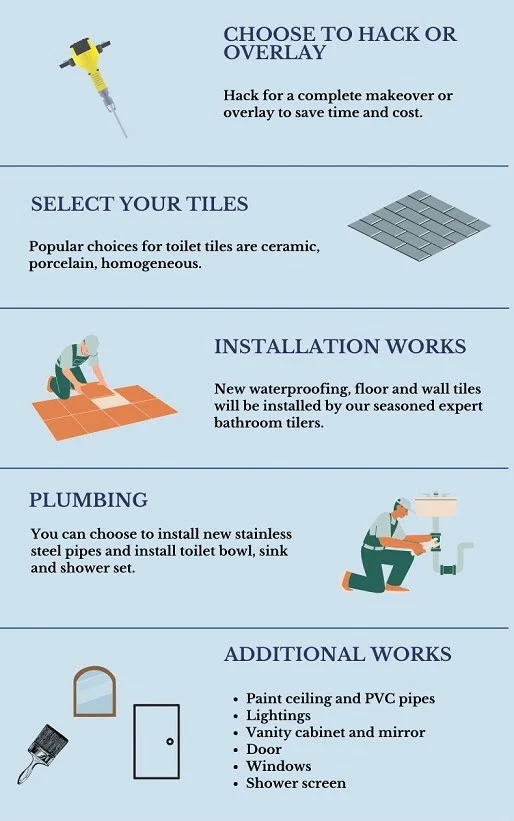 ---
Toilet Design Ideas
Next, find out the kind of design you want for your bathroom. Create a space that reflects your personal style, fulfills your functional needs, and fits within your budget.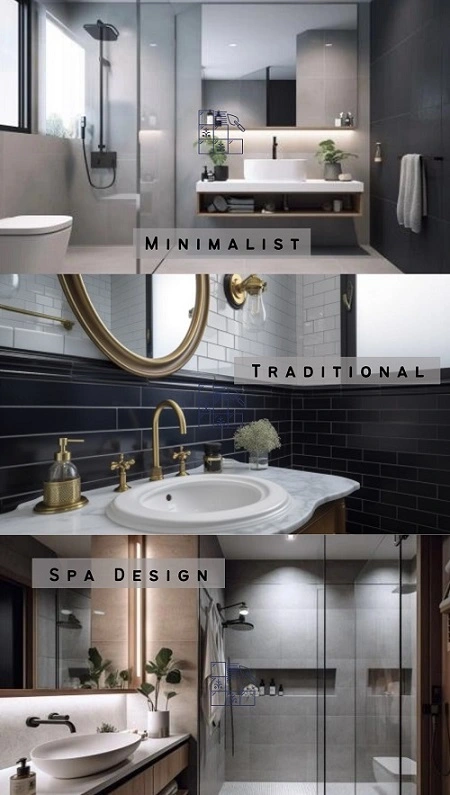 Here are some toilet renovation ideas to consider:
Modern Minimalist: A design style defined by simplicity and functionality.
Traditional Elegance: This design style incorporates intricate details, rich colors, and classic fixtures.
Industrial Chic: Combining raw materials like exposed brick, metal, and concrete with functional fixtures creates a rugged yet stylish aesthetic.
Luxury Spa: A spa-inspired design for your toilet renovation Singapore project can feel like a personal retreat.
Bold and Eclectic: Mix different textures, patterns, and colors to create a unique toilet design Singapore style.
Remember, there are no hard and fast rules when it comes to bathroom design. Feel free to mix different styles to create a space that truly reflects your taste and lifestyle.
Explore in-depth on HDB toilet reno ideas.
---
Bathroom Tiles
I would say bathroom tiles is the most important element in a toilet renovation. Here are some tips to take note of.
Size: Large tiles can make a small bathroom appear larger and more spacious. Smaller tiles can add visual interest and are ideal for shower floors due to their better grip.
Color: Light-colored tiles can make a bathroom look bright and spacious, while darker shades can add depth and sophistication. Your choice should align with your desired aesthetic and design theme.
Material: Ceramic and porcelain tiles are popular due to their durability and water resistance. Natural stone tiles, like marble or slate, can add luxury but require more maintenance.
Texture: For floor tiles, consider a textured surface to prevent slipping when wet. For wall tiles, you might opt for smoother tiles for easy cleaning.
Maintenance: Some tiles require more maintenance than others. For example, glass tiles are easy to clean but can show water spots, while stone tiles need sealing to prevent stains.
Grout: Don't forget the grout! It can dramatically affect the look of your tiles. Light grout can provide a seamless look, while darker grout can highlight the tile pattern and hide dirt.
Remember, your tiles should be a blend of style and functionality. Don't rush this decision. Take your time to choose tiles that will enhance your bathroom's look and withstand daily use.
Toilet Bowl
The centerpiece of any toilet, the toilet bowl, comes in numerous types such as one-piece, two-piece. Some units also allows for wall-hung. With better technology there are also smart toilets. Each type has its pros and cons regarding installation, maintenance, space usage, and features. Our guide here delves into the details, helping you choose the one that suits your needs best.
Toilet Door
The toilet door may seem like a minor detail, but it plays a significant role in the overall aesthetics and privacy of your toilet. From traditional hinged doors to sliding or even slide and swing for smaller spaces, there are several options to choose from. Consider your space availability, convenience, and the door material when choosing the right one for your toilet.
Toilet Vanity
Vanity units are a great way to add style and storage space to your toilet. They come in various shapes, sizes, and materials. You could opt for a sleek wall-mounted design for a modern look or a freestanding one for a classic touch. It's essential to consider the available space, storage needs, and your bathroom's overall theme when choosing your vanity.
Wash Basin
The wash basin can be a focal point in your toilet design. Basins can be pedestal, countertop, under-mount, or wall-mounted, each offering a distinct aesthetic. Our comprehensive guide will help you understand the functionality, installation requirements, and design impact of each type of basin to aid in your decision.
Shower Screen
A shower screen is vital for separating the wet and dry areas in your toilet, keeping the space tidy and hygienic. They can be framed, semi-framed, or frameless and can come with different types of doors. Materials vary from clear or frosted glass to acrylic. We've gathered all the information you need to consider when selecting the right shower screen for your renovated toilet.
Remember, each of these elements contributes to the overall comfort, functionality, and style of your toilet. Considering them in detail will ensure you make informed decisions for a successful toilet renovation.
---
Toilet Renovation Cost
Toilet renovation cost depend on factors like the size of the toilet, chosen materials, and design complexity. Larger spaces, higher-end materials, and intricate designs naturally drive costs higher.
Average toilet renovation cost in Singapore
Here's an estimate for one standard HDB toilet renovation.
Misc. (Paint, Electrical)
$250-600
---
Toilet Renovation Packages
We offer three distinct toilet renovation package to cater to different needs and budgets.
Package 1: Floor Overlay
This toilet renovation package offers a quick update to your bathroom without any major works. You may choose our add on services such as installing new toilet bowl, replace sink, shower sets or update your ceiling paint.
Package 2: Wall and Floor (Overlay)
The toilet renovation package involve overlaying your bathroom tiles without removing the old tiles. It is the most economical and popular package among Singaporeans.
Since HDB only allows overlay only once, consult our specialist first if this is possible.
Package 3: Hack and Retiling
The existing tiles are demolished followed by laying of new wall and floor tiles. This is a perfect choice if you wish to do a fresh installation, having waterproofing problems or the tiles are overlayed before.
toilet renovation Singapore
Hear from our happy customers
"I cannot tell how much I like the look of my bathroom now compared to last time. Thank you guys for the clear advice and quality workmanship! I would say you guys are the toilet renovation Singapore contractor. Few of our family and friends already started asking and we gave your contacts for their projects."
"Special mention to Aaron and Fai for smooth coordination and updating us as we are away on holidays when they did our works. I did not feel any worry when you guys frequently update me. Anyone looking for toilet renovation Singapore, I recommend tiling.sg.
Get Your Beautiful Oasis Now
What is the average toilet renovation cost in Singapore?
Toilet renovation cost depends on several factors, including the size of your bathroom, the complexity of the design and the quality of the materials used. On average, a standard HDB toilet renovation cost ranges between $5000 – $7500.
Where do I choose the bathroom tiles in Singapore?
You may go to Hafary or Soon Bee Huat. They have many options for your toilet.
How long does a toilet renovation Singapore process typically take?
The timeline for a toilet renovation Singapore project depends on the extent of the renovation, any necessary permit applications, and the contractor's availability. However, most toilet renovations can be completed within 1-2 weeks, given no major construction changes.
What should I consider before starting a toilet renovation Singapore project?
Before starting your toilet renovation Singapore project, consider your budget, the condition of your current bathroom, your design preferences, and the practical requirements of your household. Also, consider energy and water efficiency to lower utility costs.