Discover, Decide: Your Flooring Guide.
Stepping onto a new floor soon? Our guide offers insights into materials, maintenance, and more. Start your journey here!
"workmanship is really solid and one flooring tiling expert you can trust!- Mr Joshua"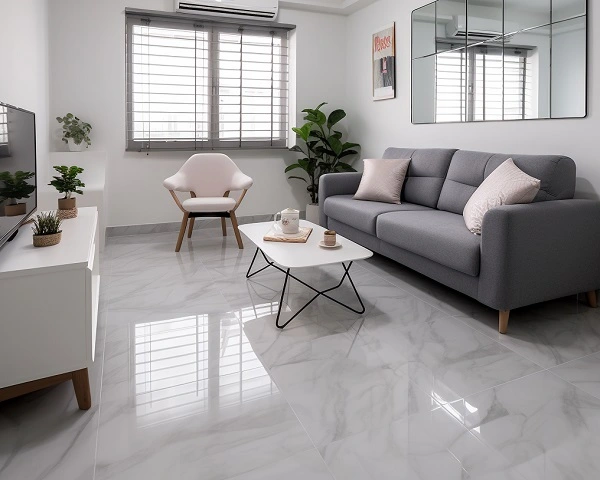 Flooring Overview
Flooring. It's not just a surface to tread upon. It's an integral part of a home's design, functionality, and overall ambiance. Our comprehensive guide illuminates the world of flooring to aid your choices, ensuring the foundation of your space is both stylish and sustainable.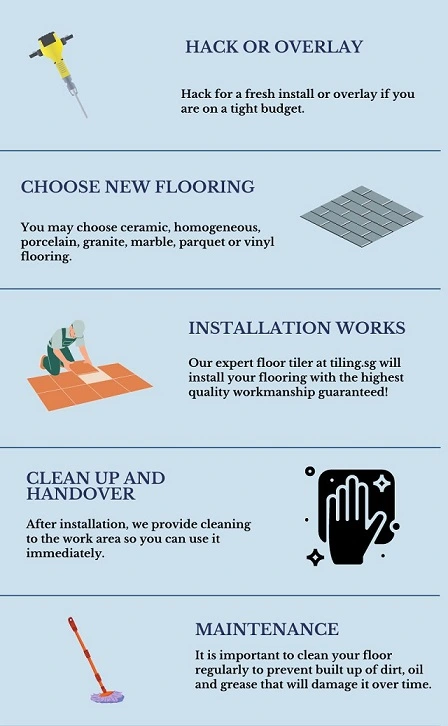 ---
Types Of Flooring
Each flooring material comes with its charm and challenges. Let's look into each one:
Tile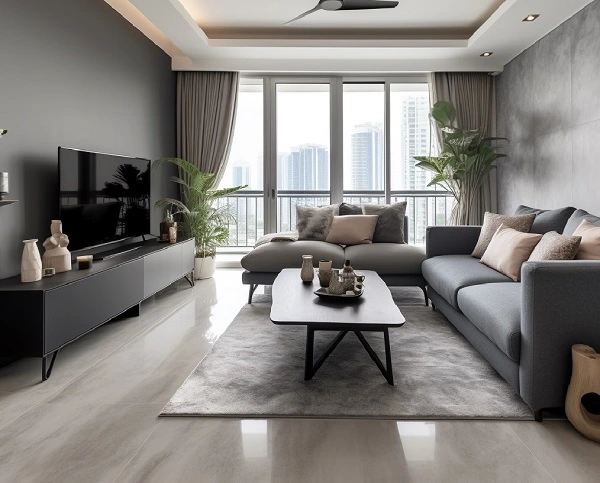 Made from ceramic, porcelain or natural stone, they are highly durable and often used for kitchens, bathrooms and outdoors due to their moisture resistance.
Available in many colors, designs and finishes, tiles are easy to clean and maintain. They are resistant to water and high temperatures, making them an ideal choice for versatile applications.
They can be cold, hard and grout lines might require periodic cleaning or resealing to prevent staining.
Here's an in-depth guide between ceramic and porcelain tiles where you will also learn about homogeneous tiles.
Vinyl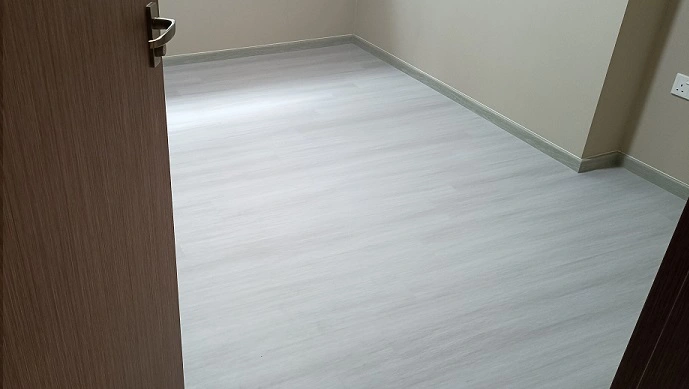 Vinyl flooring is a versatile option that mimics various surfaces, such as wood, tile, and even stone, all while offering a budget-friendly alternative. Made primarily from plastic, it comes in sheets, tiles, or luxury vinyl planks.
Extremely water-resistant, vinyl is an excellent choice for areas like kitchens and bathrooms. It's comfortable underfoot, reduces noise, and offers a plethora of designs to fit various aesthetics. Modern vinyl, especially luxury vinyl planks (LVP), can be almost indistinguishable from real wood or tile but at a fraction of the price.
While durable, vinyl isn't as long-lasting as some natural materials. It can be susceptible to punctures from sharp objects and can fade if exposed to direct sunlight over extended periods.
Learn more about vinyl flooring.
Hardwood
Hardwood brings warmth and elegance to any room. It's derived from trees like Oak, Maple, and Cherry, each offering its unique grain and color.
Besides aesthetic appeal, it is durable and can be sanded and refinished several times, ensuring longevity.
It's on the pricier side, requires regular maintenance, and isn't the best choice for moisture-prone areas.
Carpet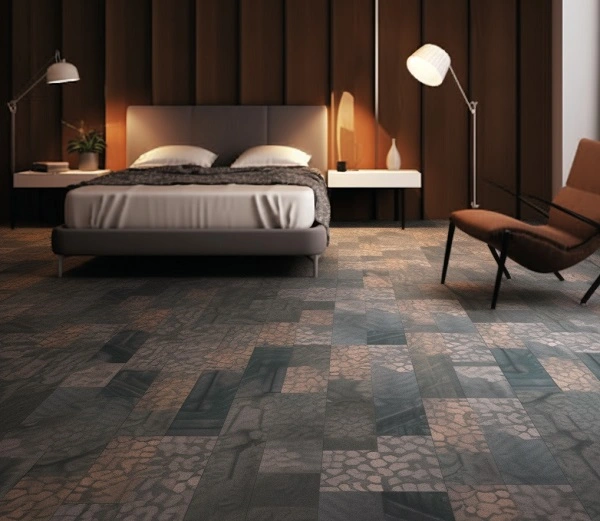 Carpet brings warmth and coziness, remains a popular choice for bedrooms and living areas. Varieties span from Berber to plush, offering a spectrum of comfort and style.
Soft underfoot and an excellent insulator, carpets also serve as sound barriers. They come in a vast array of colors and patterns, allowing personalization.
They can trap allergens and require regular carpet shampoo. Longevity isn't on par with harder flooring options.
Cement Screed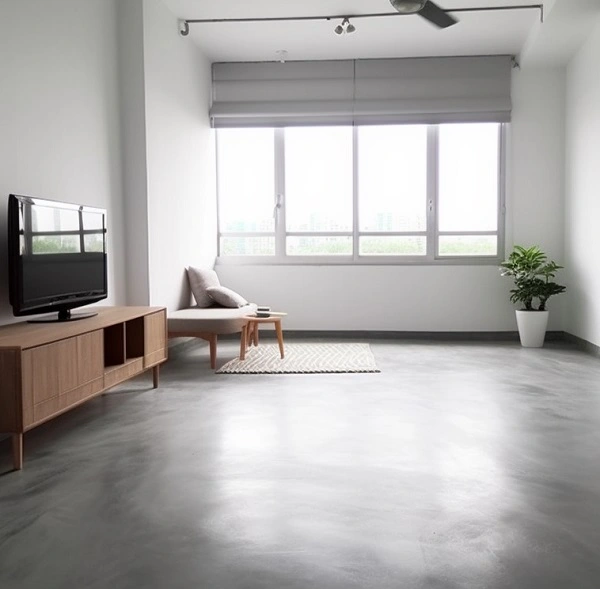 Cement screed flooring, commonly used as a subfloor preparation or a modern minimalist finished floor, is a blend of cement and sand. Its raw, industrial aesthetic is both stylish and functional.
Highly durable and resistant to wear, this can be a cost-effective choice for those seeking an urban, contemporary look. Its seamless nature means fewer joints and a smooth, continuous surface.
While robust, they can be porous if not properly sealed, making it susceptible to water damage or staining. Regular sealing is required to maintain its appearance and integrity.
Find out more on cement screed flooring.
Consult a flooring contractor when choosing your floor tiles so you can understand the costs of different options. One advice is to purchase additional materials for any future repairs.
---
Flooring Cost
Calculating the cost of floor tiling involves considering various factors including:
Materials such as tile and cement.
Labor
Additional expense such as hacking works.
Calculating the cost per square foot
To estimate the cost of your floor tiling project, calculate the floor area in square feet. We have provide a general guideline for pricing of different floor materials and the labour to install them.
| Material | Starting cost ($ PSF) | Labour and raw materials ($ PSF) |
| --- | --- | --- |
| Ceramic | 2.50 | 7.50 |
| Porcelain/Homogeneous | 2.00 | 7.50 |
| Plank tiles | 2.50 | 8.50 |
| Terrazo | 5.00 | 12.50 |
| Marble | 12.00 | 12.50 |
| Vinyl flooring | 1.50 | 1.20-2.00 |
*PSF= Per square foot.
Once you have selected your tiles, careful planning of your project timeline is crucial to avoid rush orders or expedited shipping costs. An expert flooring tiling specialist can help you manage this aspect effectively.
---
Flooring Packages Singapore
Getting a floor tiling package will save your money and time because all the works are handled by one floor tiling contractor. In a basic flooring package, you can expect all in one price for overlay or hack, tiles, raw materials and floor tiler.
Below are the ranges of pricing for HDB floor tiling package in Singapore. Consult us to assist you with calculation of your area for an accurate estimate.
| HDB flat type | Overlay package ($) | Hack and retiling package ($) |
| --- | --- | --- |
| 2 Room | 3000-3600 | 4800-5500 |
| 3 Room | 5500-6000 | 8500-9000 |
| 4 Room | 6500-7000 | 11000-13000 |
| 5 Room | 7500-8000 | 13000-15000 |
For expert advice and service, rely on our professional floor tiling services in Singapore. We are here to help you transform your home with high-quality, stylish, and durable floor tiles.
---
Floor Maintenance
Vinyl Flooring: Installation of vinyl flooring is relatively straightforward, especially for interlocking or peel-and-stick tiles. Regular cleaning with a damp mop and mild detergent should keep it looking fresh. Deep scratches or tears might require replacing a section of the floor, but with proper care, vinyl flooring can last many years.
Ceramic and Porcelain Tiles: These tiles require skilled installation to ensure a level surface and proper grouting. Regular cleaning with a mop and non-acidic cleaner can help maintain their shine. Cracked tiles will need to be replaced, and grout might need periodic resealing to prevent stains and moisture penetration.
Homogeneous Tiles: Similar to ceramic tiles, homogeneous tiles require expert installation. Routine cleaning with a soft mop or cloth and mild detergent is usually sufficient. If a tile gets damaged, it can be replaced without disturbing the rest of the flooring.
Carpet Tiles: Carpet tiles are easy to install and replace. Regular vacuuming will help maintain their appearance and longevity. Spills should be promptly treated to prevent staining, and professional carpet cleaning should be scheduled as needed.
Terrazzo: Terrazzo installation involves professional pouring and polishing. Regular dust mopping and occasional damp mopping with a neutral cleaner should keep it shiny and clean. Polishing or refinishing might be required over time to restore the surface's gleam.
Marble: Marble installation is a meticulous process that calls for professional handling. Regular cleaning with a soft cloth and pH-neutral cleaner, along with immediate spill clean-up, can help maintain its luster. Periodic polishing can restore its shine, and any chips or cracks may require professional repair.
One smart strategy to ensure the longevity of your tiles is to adopt preventative measures. Place doormats at entrances, use protective mats under heavy furniture, and regularly inspect the tiles for signs of damage.
---
If you're living in an HDB flat in Singapore and thinking about a complete retiling, consider our HDB floor tiling package. It will save you both money and time.
Testimonials
Hear from our happy customers
"I googled for floor tiling contractor online and came across tiling.sg. I enquired about my 3 room and got a fast reply. With a reasonable pricing, I signed the contract. The workmanship is really solid and one flooring tiling expert you can depend on!"
"I give you guys 10/10 for transforming my hair salon into a high lux ambiance. Bill suggested white glossy ceramic tiles with marble pattern to complement my gold framed mirrors and furnishing. I got many compliment from our customers. Highly suggest them to anyone looking for floor tiling in Singapore."
Miss Belle
Hair Salon Shop Owner
Free Quote, No Obligation.
Transform your home with high-quality floor tiling.
Which type of flooring is best suited for rooms with high moisture, such as bathrooms or kitchens?
When it comes to areas with high moisture like bathrooms or kitchens, you need flooring that's water-resistant and durable. Both ceramic and homogeneous tiles are good choices due to their water resistance. Vinyl flooring is also a great choice due to its water resistance and durability. However, parquet is not ideal for high-moisture areas, as it can warp or discolor.
How do I select the right type of flooring for my property in Singapore?
As a floor tiling contractor in Singapore, we offer a range of options to choose from, including tile or vinyl flooring. The right choice depends on your budget, usage patterns, and personal preferences. We can provide a detailed consultation to help you make the best decision.
There are few showrooms in Singapore you can also visit such as Hafary for tiles and Europe Unique for vinyl floor tiles.
What services do I need to consider when renovating my floors?
Whether you're searching for "flooring singapore," or have specific needs such as a "vinyl flooring" or "floor tiling contractor," we have you covered. We provide a wide range of services including but not limited to installation of vinyl flooring, tile flooring, and even custom flooring solutions.
Our team consists of seasoned professionals who are committed to delivering high-quality workmanship and customer satisfaction. Contact us to discuss your specific needs and to obtain a customized quote.
Alternatively, you may view all other works that we do in Singapore.