Upgrade Your Kitchen with a Stylish Glass Backsplash!
Discover the transformative power of a modern glass kitchen backsplash! Explore various types, benefits, and trends. Easy-to-clean, durable, and versatile, a glass backsplash adds style and functionality to your kitchen. Transform your space now – learn more and get professional help!
"I highly recommend their services to anyone looking to upgrade their kitchen."- Jasmine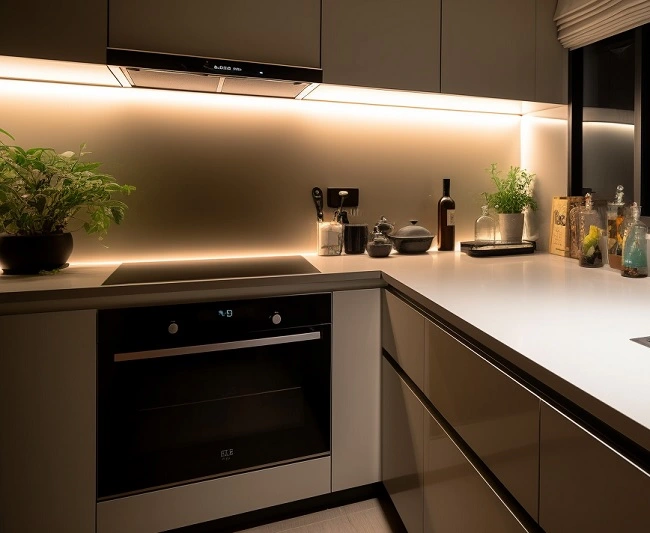 Have you ever walked into a kitchen and immediately been captivated by the stunning backsplash behind the stove or sink? That's the power of a well-chosen kitchen backsplash! And among the many options out there, glass kitchen backsplashes are gaining popularity, and for good reason.
A glass kitchen backsplash is more than just a functional barrier to protect your walls from splashes and spills. It's a statement piece, a focal point that can transform the look and feel of your kitchen. Whether you're going for a sleek modern look, a vibrant splash of color, or an elegant timeless design, a glass backsplash can help you achieve your vision.
Glass backsplashes come with an array of benefits – they are easy to clean, highly durable, and can even make your kitchen look brighter by reflecting light. In this guide, we'll dive deeper into the world of glass kitchen backsplashes, helping you understand the different types available, the benefits they bring, and how to choose the perfect one for your kitchen.
Types of Glass Kitchen Backsplashes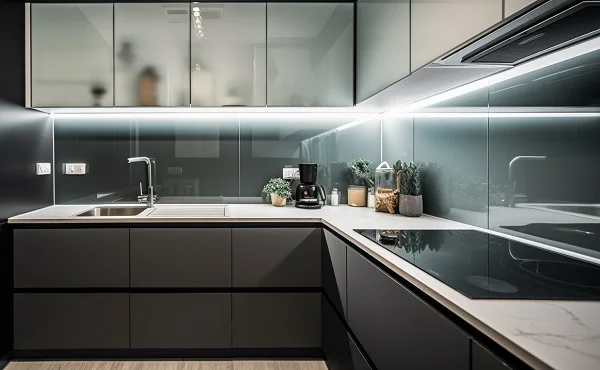 There is regular or tempered glass kitchen backsplash. Tempered glass is treated with heat to make it more durable and resistant to heat and impact, making it a popular choice for backsplashes.
Paint colour is then chosen and back-painted on the glass. If you have a beautiful wall and want to show off, you can go with clear glass. Bottom line is you want to protect the original wall from oil and water splatter.
---
Benefits of Glass Kitchen Backsplashes
Let's talk about the many advantages that come with choosing a glass kitchen backsplash. First and foremost, glass backsplashes are incredibly easy to clean. Say goodbye to stubborn stains and hours of scrubbing. With a glass backsplash, all you need is a damp cloth and a gentle cleaner to wipe away splatters and spills in seconds.
Durability is another major plus. Tempered glass, in particular, is resistant to heat, impact, and scratches, making it perfect for a busy kitchen environment. It can handle the heat from your stove and the occasional bump from pots and pans without a problem.
A glass backsplash also brings an undeniable aesthetic appeal to your kitchen. The reflective quality of glass can make your space feel brighter and more open. Plus, with options like back-painted and textured glass, you can add a unique touch that elevates the overall look of your kitchen.
But perhaps the biggest benefit of all is the versatility of glass. Whether you're going for a minimalist modern look, a cozy cottage vibe, or an eclectic mix of styles, there's a glass backsplash that can fit seamlessly into your vision.
---
Choosing the Right Glass Backsplash for Your Kitchen
Selecting the right glass backsplash for your kitchen may seem overwhelming with so many options available. Don't worry, we're here to help you navigate through the choices to find the perfect match for your kitchen.
First, consider the overall theme and color scheme of your kitchen. Do you have a modern kitchen with sleek lines and a neutral palette? Or perhaps a more traditional space with warm woods and classic touches? Your backsplash should complement the existing decor and contribute to the overall harmony of the room.
Next, think about the type of glass you'd like to use. As mentioned earlier, tempered glass is a strong and heat-resistant option, making it a great choice for kitchens.
Now, let's talk about color. If you have a bold kitchen design, you might opt for a neutral backsplash that doesn't compete with the rest of the decor. On the other hand, a colorful glass backsplash can be the perfect statement piece for a more understated kitchen. You can choose colour from online catalog such as Nippon Paint or consult us to pass you a sample via WhatsApp.
Last but not least, think about installation. While you can certainly tackle this as a DIY project, hiring a professional will ensure a smooth and flawless installation. Either way, be sure to measure your space accurately and plan for any outlets or switches that may affect the placement of your backsplash.
Remember, your glass kitchen backsplash is a long-term investment that will enhance the beauty and functionality of your space for years to come. Take your time, consider your options, and choose a backsplash that reflects your personal style and complements your kitchen.
---
How Kitchen Glass Backing Is Installed
Now that you've picked out the perfect glass kitchen backsplash for your kitchen, it's time to think about installation.
Measure, measure, measure: Accurate measurements are crucial for a perfect fit. We measure the length and height of the area you want the kitchen glass backing and account for any switches or power sockets.
Preparation: We make sure the wall is clean and dry. If your wall has any imperfections, like cracks or uneven spots, it's essential to fix them before installing your backsplash.
Using the right adhesive: There are several types of adhesives for a glass backsplash to your wall. We either use clear, thin-set mortar or silicone adhesive.
Installation: Installing a glass backsplash is not something you want to rush. We utilize spacers to ensure even gaps between the glass and countertops or cabinets. Next the glass is pressed onto the wall and make any necessary adjustments.
Finishing touches: After the glass backsplash is installed, the edges are caulked. This not only gives your backsplash a polished look but also helps seal the edges and prevent moisture from getting behind the glass.
A well-installed glass backsplash can transform your kitchen and add lasting beauty and value to your home.
---
Trends and Inspirations
When it comes to glass kitchen backsplashes, the possibilities are nearly endless. If you're looking for some inspiration, here are a few popular trends and ideas to consider:
Color-blocking: One of the top trends in kitchen design is color-blocking, and it works wonderfully with glass backsplashes. Consider using two or more complementary colors in a bold, geometric pattern to create a stunning visual impact.
Metallic finishes: Metallics are making a big comeback in interior design. Consider a glass backsplash with a metallic finish or a metallic paint applied to the back for a sophisticated and modern look.
---
Caring for Your Glass Backsplash
Once you have your beautiful new glass backsplash installed, you'll want to keep it looking its best. Luckily, glass is easy to care for and maintain. Here are a few simple tips to keep your backsplash looking pristine:
Regular Cleaning: Use a soft cloth or sponge and a gentle, non-abrasive cleaner to wipe down your glass backsplash regularly. Avoid harsh chemicals or scrubbing pads that could damage the glass or leave scratches.
Avoid Strong Chemicals: While glass is resistant to most stains, it's best to avoid strong chemicals that can etch or dull the surface. Stick to mild soaps and glass cleaners.
Deal with Spills Promptly: If you have a spill, especially acidic or oily substances, wipe it up as soon as possible to prevent any potential staining or damage to the glass.
Protect the Edges: If your backsplash edges are exposed, be careful not to knock them with pots, pans, or other kitchen items. Chipped or cracked edges can be sharp and dangerous.
Inspect Regularly: Periodically check your backsplash for any signs of damage or wear. If you notice any issues, it's best to address them right away.
Remember, a little care goes a long way in keeping your glass kitchen backsplash looking beautiful for years to come.
---
Transform Your Kitchen Now
If you're excited about the idea of adding a beautiful, functional, and easy-to-maintain glass kitchen backsplash, we're here to help. Our team of experts can assist you in choosing the perfect design, color, and texture to complement your kitchen's decor. We also offer professional installation services to ensure a flawless finish.
Don't wait any longer to elevate the look of your kitchen. Contact us today to get started on creating a stunning and practical glass kitchen backsplash that will add value and style to your home for years to come.
Other Resources:
We also provide a comprehensive information on kitchen tiling works in Singapore.
Hear from our happy customers
"My wife like the glass kitchen backsplash! The team was incredibly helpful in selecting the perfect design and color to match my kitchen. Installation was fast and they settled the power socket for us. My kitchen looks more modern, and I've received so many compliments. I couldn't be happier with the results!"
"I renovated my kitchen and did a glass backsplash. It's gave my kitchen a sophisticated look. The whole process was smooth and hassle-free. I highly recommend their services to anyone looking to upgrade their kitchen."
Miss Jasmine
HDB Flat Owner
What is glass kitchen backsplash price in Singapore?
The price of a glass backsplash in Singapore typically starts from $25 per square foot onwards. This price can vary based on factors such as the type of glass used (e.g. tempered or regular), color and texture choices, and any additional customizations. It's important to consider your kitchen's dimensions, the overall design you want to achieve, and your budget when planning for a glass backsplash. We offer a range of options to fit your needs and are happy to provide a personalized quote for your project.
What are the benefits of installing a glass kitchen backsplash in my kitchen?
A glass kitchen backsplash offers several advantages. It is easy to clean, highly durable, and resistant to heat and impact, especially if you opt for tempered glass. The reflective quality of glass can make your space feel brighter and more open. Additionally, with options like back-painted and textured glass, you can customize the backsplash to fit your personal style and complement your kitchen's decor.
How do I choose the right type and color of glass for my backsplash?
When selecting the right glass kitchen backsplash, consider your kitchen's overall theme and color scheme. Tempered glass is strong and heat-resistant, making it suitable for kitchens. Back-painted glass offers endless customization options, while textured glass can add depth and intrigue. As for color, consider whether you want your backsplash to be a statement piece or blend in with your kitchen's existing decor. A neutral backsplash works well with bold designs, while a colorful glass backsplash can be a great focal point in a more understated kitchen.