Beautiful Kitchen Backsplash To Elevate Your Cooking Space
Explore top kitchen backsplash ideas, trends, and costs for 2023 in Singapore. From glass to tiles and stones, we provide professional services and inspirations for your perfect kitchen. Get free consultation today!
"The marble effect back splash they installed was top-notched!"- Kelvin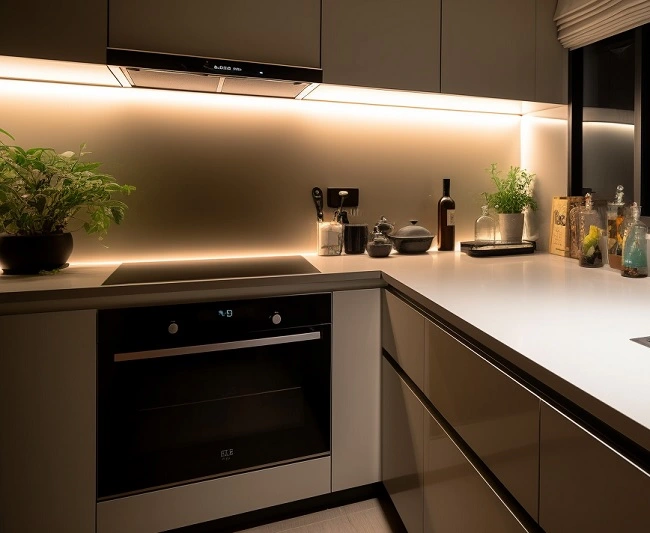 What is Kitchen Backsplash?
A kitchen backsplash is more than just a decorative wall covering. It serves a critical function in protecting the walls from splashes, spills, and stains, particularly those behind the stove and sink areas. By choosing materials that are easy to clean and maintain, homeowners ensure a hygienic kitchen environment. But the backsplash's role isn't merely utilitarian; it's also a canvas for artistic expression, tying the room's design elements together.
Types of Kitchen Backsplash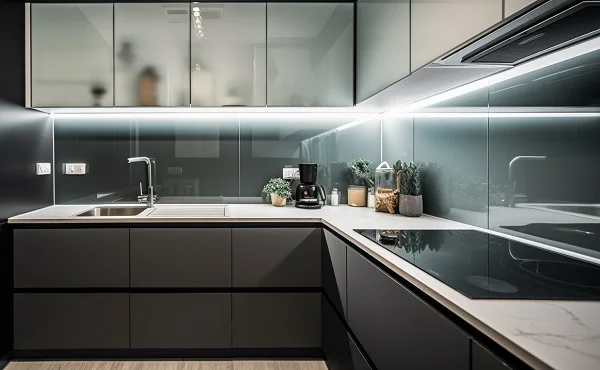 Glass Backsplash
Glass backsplashes can protect your walls from spills and splashes without sacrificing style. Our customizable glass offerings allow you to choose from a wide array of colors, ensuring a design that matches your taste and complements your kitchen's decor.
Why Choose a Glass Backsplash?
Variety of Colors: Choose a hue that complements your kitchen's aesthetic or make a bold statement with a vibrant splash of color.
Easy to Clean: Non-porous glass surfaces mean fewer germs and easy cleaning, ideal for maintaining a hygienic kitchen.
Reflective Surface: Glass backsplashes naturally reflect light, brightening your space and creating an illusion of a larger, more open area.
Customization: We provide the flexibility to tailor your glass backsplash to your specific requirements, from size to color.
Which Glass Backsplash To Choose?
1. Normal Glass Backsplash: The popular choice for homeowners, normal glass is known for its affordability and durability. It's slightly green tint provides a refreshing touch to the kitchen. Perfect for those who appreciate simplicity and practicality.
2. Tempered Glass Backsplash: Tempered glass is heat-resistant, robust, and safe. With the same customization options as normal glass, tempered glass backsplashes are ideal for those who seek added strength and durability, particularly around high-heat areas like stovetops.
Find out more on glass kitchen backsplash.
Marble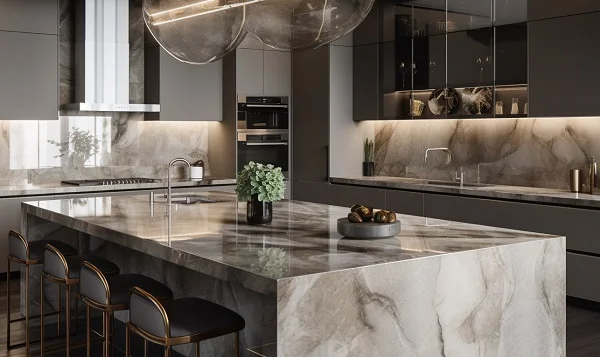 For those seeking elegance and luxury, marble provides a timeless appeal. Its natural veining and unique patterns make each piece one-of-a-kind.
Sophistication: Adds a touch of class to any kitchen.
Versatility: Complements various architectural styles.
Considerations: Requires regular sealing to prevent staining.
Example: A white and grey-veined marble backsplash paired with minimalist cabinetry can create a serene atmosphere.
Other Materials
The choices don't end with glass and marble. Other options include:
Ceramic Tiles: Classic, affordable, and available in various designs.
Stainless Steel: For an industrial, sleek look.
Wood: Adds warmth and rustic charm.
Example: A mixed-material backsplash with wood and metal can create a dynamic and textured appearance.
---
Inspirational Kitchen Backsplash Ideas
This section provides ideas to inspire homeowners and designers alike, showcasing various styles and combinations that can elevate the kitchen's aesthetics.
Contemporary Glass Kitchen Backsplash Ideas
Tempered Glass
Tempered glass brings modernity and practicality together. It's heat-resistant and robust, making it suitable for areas near stovetops.
Color Choices: From vibrant hues to subtle tints, you can customize it to suit your taste.
Reflective Quality: Creates an illusion of space and brightens the area.
Example: A back-painted tempered glass in a monochromatic kitchen can add a pop of color while maintaining a sleek look.
White Subway Tile Kitchen Backsplash Ideas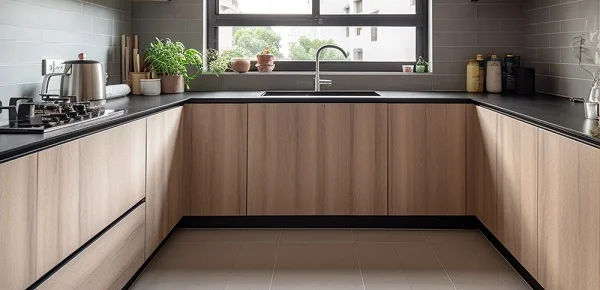 The classic white subway tile never goes out of style. It's versatile and fits various kitchen styles.
Traditional Charm: Perfect for a timeless look.
Modern Twist: Pair with dark grout for contrast and a contemporary feel.
Example: A herringbone pattern with white subway tiles can add a touch of sophistication.
Traditional vs. Modern Choices
Modern
Modern backsplashes often feature clean lines, geometric patterns, and innovative materials.
Metals and Glass: For a sleek, futuristic look.
Bold Patterns: For a statement piece.
Example: A geometric pattern with metallic tiles can create a captivating focal point.
Traditional
Traditional backsplashes lean towards timeless designs, natural materials, and warm colors.
Natural Stone: For a rustic and earthy feel.
Classic Patterns: Such as mosaics and basket-weave.
Example: Terracotta tiles with ornate designs can evoke a cozy, country-style charm.
---
Kitchen Backsplash Trends in Singapore
Latest Trends
Stay updated with the current pulse of kitchen design trends in Singapore.
Tiles
Tiles offer endless possibilities in terms of colors, shapes, and patterns.
Mosaic Tiles: Small, colorful pieces for intricate designs.
Large Format Tiles: For a seamless and minimalistic look.
Example: Combining different shades of blue mosaic tiles can create a vibrant coastal vibe.
Kitchen Backsplash Trends to Avoid
Knowing what's falling out of fashion can help in making informed design decisions.
Overly Busy Patterns: Can overwhelm the space.
Outdated Materials: Such as certain plastics that look cheap.
Example: Avoid combining too many contrasting patterns that may clash and create visual chaos.
---
Installing Kitchen Backsplash
Making the right design choice is only half the battle. Understanding how to install or what to look for in professional installation is equally important.
Kitchen Backsplash Rail System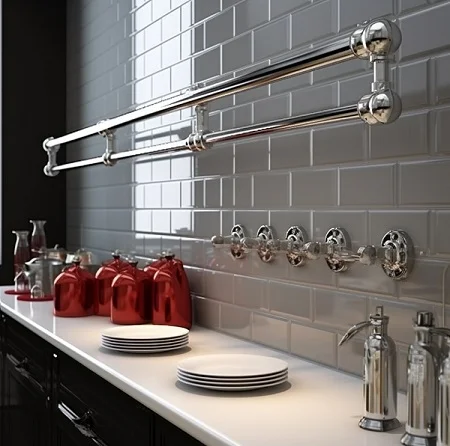 A rail system can simplify the installation process, offering a streamlined approach. You can shop kitchen backsplash rail from Shoppee or Lazada. Ensure you got the correct measurement before you purchase from online.
Functionality: Easy alignment and secure fixing of tiles or panels.
Versatility: Suitable for various material types.
Example: A stainless-steel rail system might be a great option for a sleek and modern kitchen.
DIY vs. Professional Installation
Deciding whether to take the DIY route or hire professionals depends on your comfort level, budget, and the complexity of the design.
DIY Tips
Doing it yourself can be rewarding and cost-effective, but it requires careful planning.
Tools and Materials: Know what you need beforehand.
Preparation: Clean and prepare the surface properly.
Tutorial: Follow step-by-step guides or video tutorials.
Example: Using self-adhesive tiles can make the DIY process more manageable for beginners.
Hiring Professionals
A professional touch ensures quality and takes the hassle off your shoulders.
Expertise: Benefit from professional skills and experience.
Warranty: Often comes with service guarantees.
Time-saving: Faster than DIY, especially for complex designs.
Example: Consider hiring professionals for intricate mosaic designs or natural stone installations that require special handling.
---
Your Ultimate Choice for Kitchen Backsplash in Singapore
From contemporary to traditional, we offer an array of kitchen backsplash solutions tailored to your needs.
Wide Selection: Glass, marble, tiles, and more.
Customization: Colors, patterns, and finishes to match your style.
Quality Installation: Professional services to ensure perfection.
Example: Explore our exclusive line of tempered glass kitchen backsplashes, available in various colors to complement your space.
Ready to transform your kitchen? Contact us today for personalized consultation and design solutions.
---
The journey through the realm of kitchen backsplashes is as diverse and exciting as the culinary adventures that await in your newly designed kitchen. From understanding the essentials to embracing the latest trends in Singapore, the choices are endless. Whether you're a DIY enthusiast or seeking professional guidance, we're here to make your kitchen backsplash vision come to life.
Hear from our happy customers
"We were drawn to the sleek appearance of glass kitchen backsplashes. We reached out to tiling.sg, and their team guided us through various options, finally settling on a beautiful tempered glass design. The installation was swift, and the final look is simply stunning! It should keep my cooking area clean. Highly recommended for anyone in Singapore looking for quality and style!"
Miss Pearly
HDB Flat Owner
"I've always admired the classic charm of sintered stone. They showed me various options that could complement my existing kitchen cabinet. The marble effect back splash they installed was top-notched! Every time I walk into my kitchen, I feel like I'm in a luxury magazine spread. Thank you guys!"
Mr Kelvin
Condominium Owner
What types of materials are available for kitchen backsplashes?
We offer a diverse range of materials including glass, marble, ceramic tiles, natural stone, and more. Each material has unique properties and aesthetics to suit various kitchen styles and needs.
Can I install the kitchen backsplash myself, or do I need professional help?
While some materials and designs may be suitable for DIY installation, others may require specialized tools and expertise. We provide both DIY solutions and professional installation services to cater to your specific requirements.
How do I clean and maintain my kitchen backsplash?
Maintenance varies depending on the material used. For example, glass backsplashes can be cleaned with a simple glass cleaner, while natural stone may require specific cleaning products. We will provide you with detailed care instructions tailored to your chosen material.
How long does it take to install a kitchen backsplash?
Installation time depends on the complexity of the design, material, and the area to be covered. Typically, professional installation may take anywhere from a few hours to a couple of days.
What are the costs involved in installing a kitchen backsplash?
The cost varies based on material, design complexity, and whether you opt for DIY or professional installation. We offer transparent pricing and can provide a customized quote based on your specific needs.
Can I see examples of your previous kitchen backsplash projects in Singapore?
Absolutely! We have a portfolio of completed projects showcasing various styles and materials. Whether you're interested in a modern glass look or a classic marble finish, you can explore our work to find inspiration.
Can I have a functional kitchen without a backsplash?
Yes, it is entirely possible to have a functional kitchen without a backsplash. However, without this protection, the walls may be more susceptible to stains, moisture, and wear and tear, particularly in areas near the stove or sink.
What else do you do?
We provide extensive tiling services in Singapore. You may view our kitchen tiling services and learn more here.